About
Patricia Nails Academy
My name is Patricija, I'm an International Educator and founder of Patricia Nails Academy. I am one of the lucky people who are able to do the job they love. I am a Nail Technician who works with clients so I have an excellent perspective on what is like to be a nail technician, student, and educator. Even tho I'm an educator I love learning and I educate myself with the best educators to whom I travel all around the world, that's why I am able to get the best knowledge and pass it on.
Here at  Patricia Nails Academy, we offer a wide range of salon nails services as well as nail courses. Our nail courses are for everyone who wants always to have amazing nails and not wish to go to the nail salon every week for a repair without going to nail salon and for those who want to start their own career as a nail technician.
So if you want to learn new skills or just always to have amazing nails, come to visit Patricia Nails Academy in Dublin.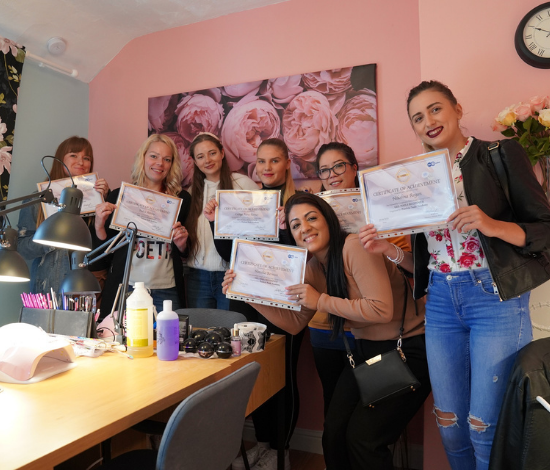 Our
Nail Courses
Start a career you enjoy and be your own boss. Become a nail technician in your own time and study alongside work commitments with our fantastic range of nail courses. Find anything from Gel Beginner courses to Up-Skilling and Nail Art courses.
Ideal for beauticians who want to expand their treatments or for those looking to pursue a new career, our nail technician courses will ensure you have all the necessary skills and knowledge needed to create stunning nail designs.
I'm interested in:
Our
Salon Nails
Make time for self-love.
Treat Yourself with girly and stylish nails design
Choose from Gel Nails, Hand-painted designs, 3D handmade nail art, Swarovski crystals, Nails with Cartoon characters, and other.
No matter what you choose you will get the best nail treatment in Dublin.
Creative and beautiful nail art for any occasion.
Why
Our Clients Choose Us
Our salon aims to deliver the best nail design experience and top-notch customer service.
I have just completed a beginners gel nail tech course with Patricia & would highly recommend her. She is an excellent educator, very patient & explains everything in detail.– Kathleen
Was at a workshop with Patricia today amazing teacher wow u do amazing work thank u so much– Laura
I'm very happy to have chosen the best educator. Patricia is very patient, attentive, and does an impeccable job with the students. Patricia doesn't let you leave the course without learning. I really recommend the course to everyone who wants to become a nail technician. Thank you very much for the amazing time l really enjoyed it.– Natalia
Patricia managed to satisfy another lucky group of girls with her talent and her unbeatable skills very proud to be a part of this group and to learn from the best just like my mam did very happy with her client-friendliness and I cannot recommend working with her more.– Csenge Sara
I have done beginners gel nails course with Patricia and I'm mind blown how much I learned. I'm super impressed by her work and knowledge and i can't wait to come back again to do another courses! Can't recommend enough. By doing the course with Patricia, you investing in your feature– Kasia
Follow
Patricia Nails Academy on Instagram